Julia's Suffering in Reparation for the Conversion of Sinners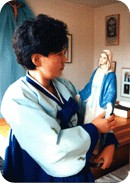 율리아님은 주님과 성모님의 부르심에 "아멘"으로 응답하여 죄인들의 회개와 구원을 위하여 보속의 삶을 살아오면서 세상 많은 자녀들이 죄를 지을 때마다 찢겨진 주님과 성모님의 성심을 기워드리기 위하여 고통에 동참하셨습니다.
율리아님이 받으셨던 수많은 고통들 중에는 십자가의 오상과 가시관 고통, 예리한 칼과 날카로운 창이 심장을 꿰뚫는 고통, 성심이 찢기어 불타는 고통, 7개의 화살이 가슴에 꽂혀 활활 불타오르는 고통, 낙태 보속 고통, 연옥과 지옥불의 고통, 마귀의 공격으로 인한 극심한 고통, 성 김대건 신부님의 참수치명 고통, 주님께서 십자가의 길에서 받으신 많은 고통들, 순교자들이 받은 고통, 모령성체로 인하여 받으신 고통, 음란 보속 고통
등이 있는데 지금도 계속되는 그 극심한 고통들을 죄인들의 회개와 구원을 위하여 아름답게 봉헌하고 계십니다.
예수님과 성모님께서는 "사랑이 말살되어 일치가 되지 못하므로 인하여 인간과 인간이 죄악 속에서 부르짖는 고함 소리가 전쟁의 소음이 되어 하늘을 찌르는 듯한 아픔에 하느님의 진노를 사고 있단다." 라고 하시면서 율리아님이 받는 자관 고통과 십자가 고통,
성심이 불타 오르는 고통 그리고 김대건 안드레아 신부님의 치명 고통, 낙태보속 고통을 통하여 죄인들이 회개하게 될 것이며 성직자와 수도자들이 사랑으로 일치하게 될 것이라고 말씀하셨습니다. 율리아님은 1981년 성시간 현시 중에 예수님의 옷이 걷히고 가슴이 열리더니 심장이 갈기갈기 찢기워져 피가 줄줄 흘러 내리는 처참한 모습을 보고는 주위를 의식하지도 못한채 큰 소리로 외치셨습니다.
"오 주님, 나의 주님이시여! 주님의 찢어진 그 심장을 어찌하오리이까?" 그때 예수님께서 큰소리로 말씀하셨습니다.
"죄인들이 죄를 지을 때마다 내 심장은 이렇게도 무참히 찢기고 있단다. 나를 아는 너희들만 이라도 내 찢어진 이 심장을 기워다오."
"오 주님! 주님의 찢긴 그 심장을 제가 기워드리겠나이다. 제가 기워 드리겠나이다." 하며 율리아님이 큰 소리로 울부짖자 주위에 있던 모든 사람들도 따라 울면서 모두 함께 숙연해졌습니다.
이 후 율리아님은 세상 자녀들의 죄악 때문에 예수님과 성모님께서 겪고 계시는 성심의 고통에 온전히 동참하고 있으며, 사랑을 실천하고자 기꺼운 마음으로 보속 고통을 청하여 극기와 청빈과 희생으로써 봉헌된 삶을 살고 있습니다.